Lab Grown Diamond Yellow Color Oval Shape Brilliant cut Loose Diamonds and Pink Color Lab Grown Diamond stones with IGI Certificate
PICTURES
---
---
What's Synthetic/Lab Grown diamond?
A synthetic diamond (also known as a laboratory-grown diamond, a cultured diamond, or a cultivated diamond) is a diamond produced by a controlled process, as contrasted with a natural diamond created by geological processes or an imitation diamond made of non-diamond material that appears similar to a diamond.
Synthetic diamond is also widely known as HPHT diamond or CVD diamond, after the two common production methods (referring to the high-pressure high-temperature and chemical vapor deposition crystal formation methods, respectively). While the term synthetic may sometimes be associated by consumers with imitation products, synthetic diamonds are made of the same material as natural diamonds—pure carbon, crystallized in an isotropic 3D form.
WHAT IS THE DIFFERENCE BETWEEN HPHT AND CVD?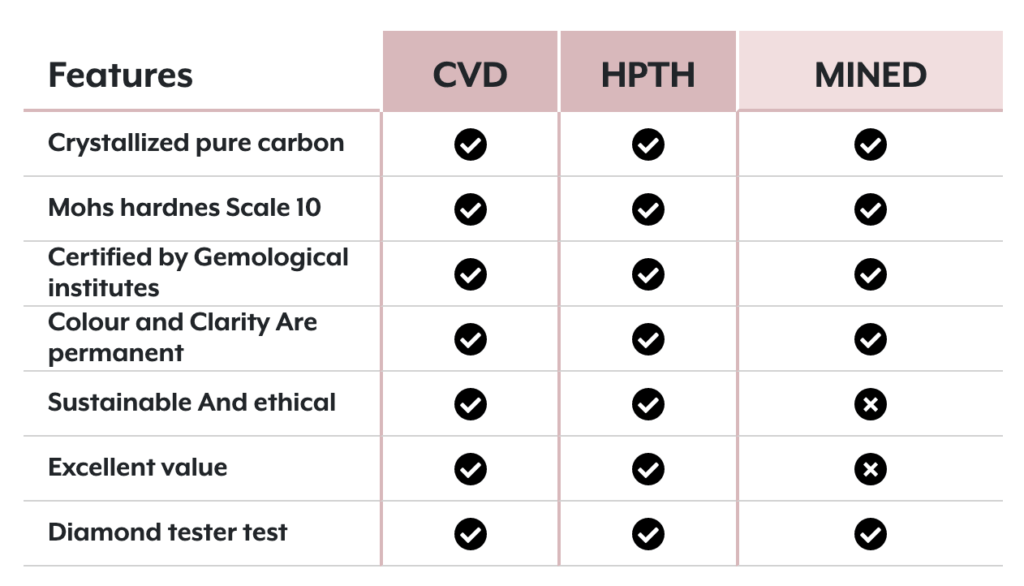 When comparing CVD vs HPHT diamonds, there is absolutely no difference other than the process used to create them. You will not be able to tell the difference between HPHT vs CVD diamonds.
Both methods are capable of producing the full range and quality of real diamonds that are optically, chemically, and physically identical to earth-grown diamonds.
We could dive deep into the technicalities of each method, detailing all the difference in the production process, but we believe it's a waste of time at best and confuses and misleads people at worst. Instead, we prefer to provide you with practical and easy to follow reliable advice. As you are aware, each and every one of our lab-grown diamonds are industry certified by leading certifiers, therefore when choosing your diamond, solely focus on trying and go for as high of colour and size as your budget allows it. Additionally, when it comes to clarity, try to go for SI1 and above, with the exception of emerald cuts, where we recommend going for VS2 and above. By following those two simple guidelines we guarantee you will be happy with your choice, regardless of whether the production method was CVD or HTPT, since, as we've already discussed, it will make absolutely no difference to you.
Real facts:
CVD and HPHT can produce D colours
HPHT on average yields higher colours than CVD
CVD on average yields higher clarities than HPHT
HPHT and CVD can produce VVS1 and FL
Most diamonds under 1:00ct are HPHT due to costs effectiveness.
---
Included with your purchase from FU RONG GEMS
100% Made in China:
All of the Lab Created Diamond/CVD Diamond/Synthetic Diamond gemstones are made in the China.
30 Day Returns:
We want and expect you to be thrilled with your purchase, but to provide you peace of mind, we offer a 30 day return policy for most of our Gemstones.
We supply Lab grown diamond loose stones in many kind of popular shapes, round, heart, marquise,oval, emerald, asscher..etc. and also in several popular colors: such as Pink, Yellow, Blue, black..etc.
For Other questions, please feel free to contact us for help. Email: [email protected]
OUR ADVANTAGE
---
Factory & Manufacturer since 2008, strong productive ability.

Ensure the large quantity supply of product.

We are one of the largest manufacturers & Suppliers of Loose gemstone in Wuzhou City.

Strict quality inspection:

15 production processes ; 9 inspection processes ; more than 8 experienced QC check ;

Every gemstone has its quality assurance.
GUARANTEE
---
30 days without using and damage of the stones;

Bulk product quality is not same as samples;

Merchandise are not same as the order list;
Contact us today to get the Loose Lab grown diamond Yellow and Pink color Loose Diamond wholesale at factory direct price from China Supplier and manufacturers.